By Yalda Hakim  
29 April 2016  
BBC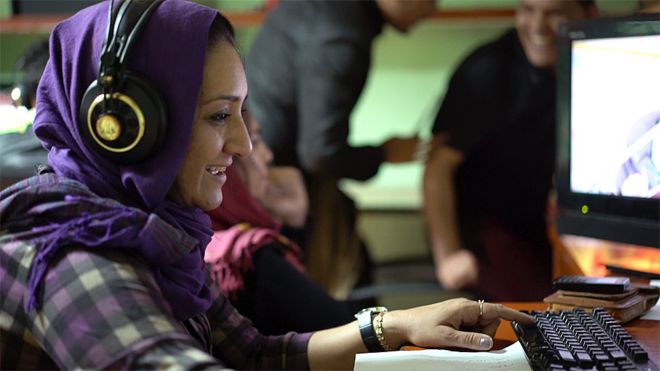 When the Taliban seized power in Afghanistan in the 1990s they were quick to ban television, along with music and theatre. The post-Taliban era has seen an explosion of activity in the media, but TV personalities have become targets for militants. Here two women employed by the country's most-watched TV station, Tolo, describe doing their job under the threat of death.
Shakila Ebrahimkhil – Tolo TV correspondent
Shakila Ebrahimkhil's own life bears some resemblance to the stories she reports on every night. She was married off as a teenager, during the Taliban years, and when her husband suddenly died she was forced to look after her elderly parents and three young children alone.
Later, after the US-led invasion in 2001, she managed to get an education and eventually started work as a journalist.
It was she who, in 2012, broke the story of Sahar Gul, a 15-year-old Afghan child bride who was locked up and tortured by her husband and in-laws after she refused to be forced into prostitution.
The story shocked people around the world and caused outrage in Afghanistan.
But highlighting the suffering of women in Afghanistan has brought her death threats from militants. And so has another aspect of work – reporting on the many suicide bombings that have hit Afghanistan over the years.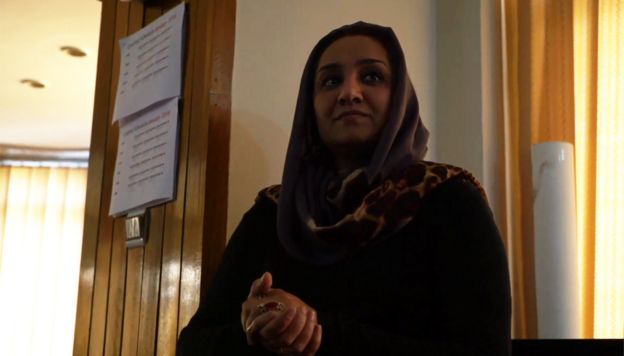 She has made a name for herself covering the aftermath of these attacks, interviewing survivors and talking to the families of those who have died.
"We make a profile of them," she says. "Unfortunately that is part of our work."
At the Kabul Trauma Hospital, the medics know her well. When they see her, they say, they know plenty of new patients are likely to be arriving before long.
In the ward where the most critically wounded bomb victims are treated there are women and children and Ebrahimkil has come to get victims to record messages to the militants, to mark Persian New Year.
She has covered such scenes many times and I start to think she's become immune to the suffering. But it's actually the very opposite. She breaks down.
This is a side to the correspondent Tolo TV's viewers don't usually see.
"I suffer a lot. Maybe it's because I am a mother. I try to control my emotions, but it's not possible," she says.
"I'm a mum too, you know. I'm worried about the future of these kids. When I see these kids I think of my own children. I understand that the future won't be good for any of them."
Earlier this year, Ebrahimkhil had the painful task of reporting on a suicide bomb attack against Tolo TV itself.
During rush hour on 20 January, a Taliban suicide bomber truck rammed a minivan in central Kabul, as it carried Tolo staff home after work. Seven were killed and more than 20 were injured.
"I wanted to scream and cry with each name I read. It was very painful for all of us, when you lose your colleagues," she says.
"We believe the suppression of Tolo means the suppression of freedom of speech in Afghanistan. And we won't let the people of Afghanistan feel that."
Journalists in Kabul recognise government propaganda when they see it. They know how dangerous the security situation really is now that foreign troops have withdrawn, and how precarious the economy is.
All this puts them in a difficult position. Do they stay on – despite the risks – to continue to tell the story of the suffering of their people. Or do they put their families first, and get out, like tens of thousands of others?
Ebrahimkhil too was confronted by this reality. Since meeting her in Kabul, I have learned that she has left Afghanistan and is currently in Turkey. It's uncertain whether she will return but she says for now, it's too dangerous for her to raise her children in her motherland.
Aryana Sayeed – singer and judge on "Afghan Star"
Afghan Star, a version of Pop Idol, is the most popular show on television in Afghanistan, but it's been condemned by the Taliban for its "lewdness" and "immorality".
This has made Aryana Sayeed, the programme's female judge, and one of Afghanistan's most famous singers, a prime Taliban target.
She refuses to wear a headscarf, and performs in tight-fitting clothing, like any pop diva anywhere in the world. Her lyrics, meanwhile – urging women to be strong, and not to give up fighting for a better future – have become a rallying cry for many Afghan women.
In many ways, she represents everything that the Taliban and other hardliners don't want for a modern Afghanistan – women's rights, freedom of expression and the determination to hang on to the gains of the past 15 years.
---
Taliban press release (12 October 2015)
Tolo and 1 TV channels are… propaganda networks tasked with promoting the intellectual, cultural and information invasion of the infidels in Afghanistan. These networks, with the complete backing of the Americans, ridicule our religious and cultural norms, encourage obscenity and lewdness [and] inject the minds of youth with dangerous substances such as irreligiousness, immorality, violence, gambling, intermixing and profanity.
Henceforth no employee, anchor, office, news team and reporter of these TV channels holds any immunity.
---
This explains the constant rumours that she may be in danger, whenever she flies into Afghanistan from her home in London.
"They would say, you know, 'This this week, they're going to attack Aryana, they're going to kill Aryana,' and stuff like that," she says.
"I do get scared, but you know what? I feel like, you know, this is the path that I've chosen I don't want to just leave it half way, I have to finish it somehow."
Death threats made after a performance at the national football stadium in Kabul last year make it unlikely that she will be able to give a show like that again.
And then there was the attack on the Tolo TV bus, which came half-way through the latest series of Afghan Star.
"We were actually on the set of Afghan Star. We had just finished a show when we heard the blast," she says.
"And it was so loud and so scary that we actually thought that it's happening right outside our gate probably. Basically, we thought the Taliban were going to come in and attack us."
Sayeed and others on the show were rushed out of the studio and driven to their hotel. Some of the expats working for the channel were immediately flown out of the country, but Sayeed stayed.
"I thought, you know what, no matter what happens, even if I die, I'll die, if it's in your destiny, you can die anywhere, any part of the world and I thought I'm not going to give up. Not for a second I thought I'd go back," she says.
She was issued, though, with a flak jacket.
"I thought, 'How funny is this? Being a singer in Afghanistan I feel like I am going to a war, actually. This is ridiculous.'
"It's kind of heavy as well. But yeah, what to do?"
Sayeed stayed for the rest of the show. Then, a day after the finale, she flew back to the safety of her home in London.
Yalda Hakim's Our World report Terror at the TV Station can be seen on the BBC News Channel and BBC World News (click for transmission times). Readers in the UK can watch it after 04:30 GMT on Saturday on the BBC iPlayer.
Subscribe to the BBC News Magazine's email newsletter to get articles sent to your inbox.