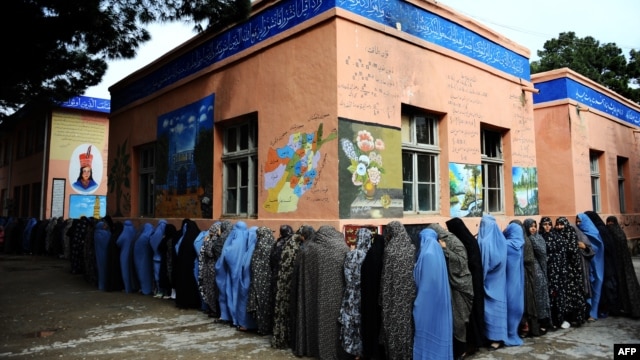 Despite a substantial level of anticipation in the first round of Afghanistan's presidential election, the authors argue that much more needs to be done before democracy is firmly established in the country.
Radio Free Europe, By Karim Lahidji and Guissou Jahangiri, June 13, 2014
M
uch noise was made about the unprecedented voter turnout for the first-round elections in Afghanistan on April 5, with almost 7 million people (60 percent of all eligible voters) making their voices heard despite serious insecurity.Yet just two months after they filled the streets of Kabul, Mazar-e Sharif, and Kandahar, the people of Afghanistan have all but disappeared from the discussion, and media attention has turned to the big power players and who between Abdullah Abdullah and Ashraf Ghani will be the country's next leader. But regardless of the results of the second-round elections to be held on June 14, the question of whether Afghanistan can now be considered democratic will depend on whether its citizens continue to participate in their own governance.For the next leader of Afghanistan to be a true beacon of democracy, he will need to ensure that the extraordinary willingness of Afghanistan's citizens to participate in their governance continues beyond the ballot box, by guaranteeing them access to education, information, and justice.
An educated citizenry is at the heart of any well-functioning democracy: people must be informed and encouraged to think critically if they are to meaningfully participate in a political society. Education is particularly important in a young country like Afghanistan, where two-thirds of the population is under 25 years of age. Equal access to quality education should be a key priority for the incoming government and seen as an investment in the development of generations of politically active and informed citizens.
An improved educational landscape has been one of the major achievements of the post-Taliban era. Many schools closed under Taliban rule have been reopened, and girls have again been offered access to education. But just as important as the government's reopening of schools has been the enormous public response to it. With the same enthusiasm that they brought to the ballot boxes in April, Afghan citizens have shown a desire to invest in the future of their country by sending their children — boys and girls — to school. Since the fall of the Taliban, school enrollment skyrocketed by 700 percent, with almost 3 million more girls attending school despite continued threats and attacks against them.

Low Literacy Rates
To build on these gains, Afghanistan's next leader must ensure equal access to quality education and give protection to those regions where Taliban groups continue to burn school buildings and threaten those who wish to educate their children.
Further resources need to be dedicated to improving literacy rates, which remain among the lowest in the world. In rural areas, where three-quarters of the population resides, around 90 percent of women and 63 percent of men still cannot read or write. In addition to the proven role of education in economic development and advancing women's rights, ensuring access to education for all of Afghanistan's children will be the main determinant for genuine democracy in years to come.
But even an informed and educated citizenry cannot engage in politics unless they are given the space to voice their thoughts and opinions. A democracy that represents the will of the people is not guaranteed only through the counting of ballots every few years; citizens must have the opportunity and freedom to share their views and concerns on an everyday basis.
Ensuring that civil society is given space and resources to thrive in Afghanistan will therefore be an essential element to lasting democracy in the country.
Freedom of expression, association, and assembly must be protected, and the media must be allowed to operate without censorship.
Media and civil society are the channels through which citizens learn about and engage with their government, and Afghanistan's new president must therefore enact legislation to protect journalists and facilitate the creation and operation of diverse civil society organizations. The international community and donors must also recognize the importance of bolstering local civil society, and support Afghan organizations representing and mobilizing their fellow citizens.
Violence With Impunity
Challenges to the capacity of Afghans to engage freely in governance come not only from illiteracy or a weak civil society. Violent actors who deny the rights of women continue to dominate local politics and rule by force, particularly in rural areas. Current approaches to "peace talks" have resulted in impunity and have allowed warlords to continue terrorizing the population.
The passing of an amnesty law by the parliament in 2007, ironically titled the "National Stability And Reconciliation Law," precludes prosecution of all people engaged in large-scale human rights abuses prior to 2001. This immunity for violent actors, combined with a lack of vetting for political leaders, has allowed local warlords to hold on to power and prevent genuinely representative candidates from running for office.
Moreover, without accountability for past and present abuses, Afghans will not feel safe to criticize the government and defend their rights. The fallacy that peace and justice are incompatible continues to pervade the peace talks in Afghanistan, and allows violence to continue with no consequence.
In this climate of impunity, Afghanistan's citizens have no guarantees that they can safely speak out against those who violate their rights. Unless Afghanistan's new government guarantees the rule of law and invests in justice mechanisms, he will be but a figurehead, and violent actors will continue to prevent genuine democracy from taking hold.
For far too long, the voice of the Afghan people has been silenced by poverty, exclusion, and violence. Nevertheless, they are being asked to have hope and courage and again face great risks to vote in the second-round elections on June 14.
Let us not ignore this call for change by the Afghan people by succumbing to the temptation of declaring democracy in Afghanistan based simply on the completion of the elections. Afghanistan's people deserve to be able to continue to participate in their own governance, and it's up to the country's next leader to ensure that they are able to do so.
Karim Lahidji is president of the Paris-based International Federation for Human Rights (FIDH). Guissou Jahangiri is director of Armanshar Open-Asia, FIDH's Afghanistan-based partner organization. The views expressed in this commentary do not necessarily represent those of RFE/RL